Management/Organization
Management
Member of the Board, President & CEO

Kazuhiro Noda

April 1986

Joined NIPPON SHOKUBAI CO., LTD.

April 2005

General Manager of Superabsorbents Sales Department

April 2011

General Manager of Corporate Planning Division

April 2015

Deputy Director of Corporate Planning Division and General Manager of Group Management and Project Planning Department

April 2017

Director of Superabsorbents Business Division

June 2018

Executive Officer

June 2020

Member of the Board, Managing Executive Officer

June 2022

Member of the Board, President & CEO (current)

Member of the Board, Managing Executive Officer

Kuniaki Takagi

Administration, HR, Finance, Accounting,
General Affairs & HR Div.

April 1987

Entered Sumitomo Chemical Co., Ltd.

April 2019

Joined NIPPON SHOKUBAI CO., LTD. as an entrusted worker

May 2019

Director of General Affairs & HR Division

June 2019

Executive Officer

June 2020

Member of the Board, Managing Executive Officer (current)

Member of the Board, Managing Executive Officer

Masahiro Watanabe

Business Sector, Purchasing & Logistics, Business Planning
Director of Basic Materials Business Div.
Battery Business Solutions Div.

April 1984

Joined NIPPON SHOKUBAI CO., LTD.

April 2009

General Manager of Raw Materials Purchasing Department

April 2013

General Manager of Performance Polymers Sales & Marketing Department

April 2016

Director of Purchasing & Logistics Division

June 2018

Executive Officer
President and Representative Director of Nisshoku Butsuryu Co., Ltd.

June 2021

Member of the Board, Managing Executive Officer (current)

Member of the Board, Managing Executive Officer

Yasutaka Sumida

Innovation & Business Development
Corporate Research Div.
GX Research & Development Div.
Health & Medical Business Div.
Cosmetics Business Div.
R&D Management Dept.
Water & Environment Solutions Business Dept.

April 1991

Joined NIPPON SHOKUBAI CO., LTD.

April 2017

General Manager of Research Center

April 2020

Director of Innovation & Business Development Division

June 2020

Executive Officer

June 2021

Member of the Board, Managing Executive Officer (current)

Member of the Board, Managing Executive Officer

Yukihiro Matsumoto

Production & Technology,
DX Promotion Div.,
Production Div.,
Engineering Div.,
IONEL Construction Team

April 1988

Joined NIPPON SHOKUBAI CO., LTD.

July 2004

Vice President of Singapore Acrylic PTE. LTD.
Vice President of SINGAPORE GLACIAL ACLYRIC PTE. LTD. (at present, NIPPON SHOKUBAI (ASIA) PTE. LTD.)

April 2009

General Manager of Technology Department of Himeji Plant

April 2014

Director of Production Division

April 2016

Director of Corporate Planning Division

June 2016

Member of the Board, Executive Officer

June 2020

Managing Executive Officer
Plant Manager of Himeji Plant

June 2022

Director of Production Division

June 2023

Member of the Board, Managing Executive Officer(current)

Outside Member of the Board

Shinji Hasebe

April 1993

Associate Professor at Kyoto University, Faculty of Engineering

August 2003

Professor at Kyoto University, Graduate school of Engineering

June 2018

Outside Member of the Board, NIPPON SHOKUBAI CO., LTD. (current)

April 2019

Program-Specific Professor at Institute for Liberal Arts and Sciences, Kyoto University (current)

Outside Member of the Board

Tetsuo Setoguchi

April 1981

Entered OSAKA GAS CO.,LTD

April 2015

Vice President, Executive Officers OSAKA GAS CO.,LTD

April 2018

Officers, OSAKA GAS CO.,LTD

June 2018

Outside Member of the Board, NIPPON SHOKUBAI CO., LTD.(current)
Advisor,OSAKA GAS CO.,LTD(current)

April 2020

Member of the Board,Chairman, OSAKA GAS URBAN DEVELOPMENT CO.,LTD.

June 2021

External Statutory Corporate Auditor, YOMIURI TELECASTING CORPORATION.(current)

April 2022

Member of the Board, Chairman, OGIS-RI Co.,Ltd(current)

Outside Member of the Board

Miyuki Sakurai

April 1992

Entered Attorney registration
Nishimura law&accounting office.

May 2003

Joint management Hanamizuki Law Office.(current)

March 2015

Auditor Nihon Seimei foundation.(current)

April 2016

Auditor OSAKA UNIVERSITY.(current)

June 2017

Outside Member of the Board,
NIPPON SHINYAKU CO., LTD.(current)

June 2020

Outside Member of the Board,
NIPPON SHOKUBAI CO., LTD.(current)

June 2022

External Statutory Corporate Auditor,
MBS MEDIA HOLDINGS, INC.(current)
Statutory Corporate Auditor

Takashi Kobayashi
Teruhisa Wada

External Statutory Corporate Auditor

Yoritomo Wada
Tsukasa Takahashi

Managing Executive Officer

Katsunori KajiiDirector of Acrylics Business Div.

Executive Officer

Gun SaitoDirector of Responsible Care Div.
Naoki HijikuroPresident of SINO-JAPAN CHEMICAL CO.,LTD.
Yoshihisa OkaPlant Manager of Kawasaki Plant
Kenta KanaidaPresident of Nippon Shokubai America Industries, Inc.
Kazuhiro SakumaDirector of Industrial & Household Solutions Div.
Shinya KataokaDirector of Purchasing & Logistics Div.
President of Nisshoku Butsuryu Co., Ltd.
Tokihiro YokoiPlant Manager of Himeji Plant
Kenjiro KomodaDirector of Business Planning Div.
Shigeru HaradaDirector of Finance & Accounting Div.
Tomiyuki SawadaElectronics & Environmental Solutions Div.
(as of June 21, 2023)
Organization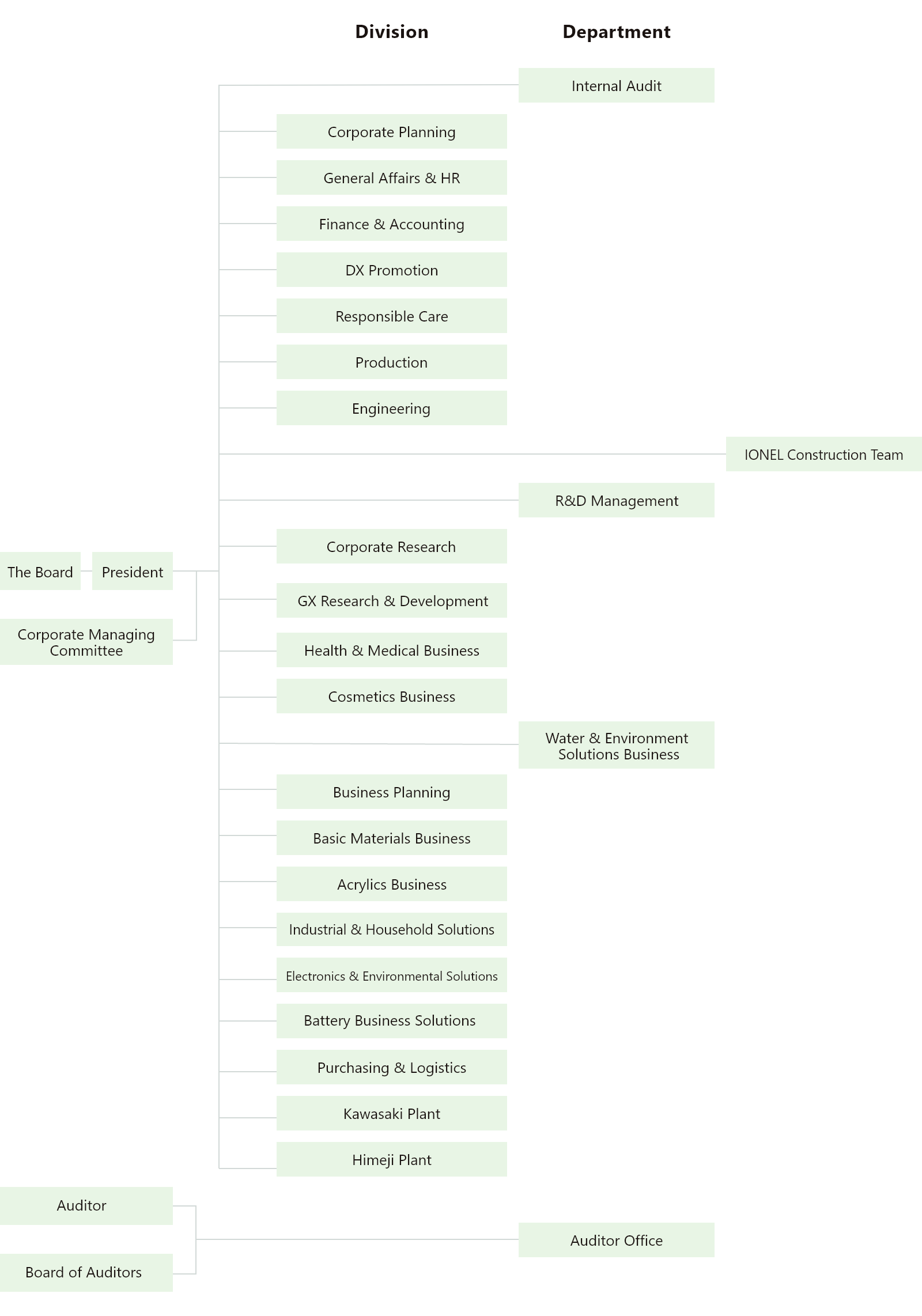 (as of June 1, 2023)