R&D for the future
Nippon Shokubai is promoting R&D and value propositions for the following selected markets utilizing our core competence. We will keep working on co-creation with society for a sustainable future by solving social issues and realizing a circular economy and carbon neutrality.
Water
Materials for seawater desalination and wastewater treatment: Osmotic pressure generating agents
Osmotic pressure generating agent (Draw Solute or DS) is a key component of the Forward Osmosis (FO) system, a next-generation seawater desalination technology. The DS developed by our company extracts water from seawater through its high osmotic pressure within the FO system, and then separates it from water by heating, allowing for efficient freshwater extraction.
By using factory waste heat and solar heat as the heat source for this process, it is possible to conserve energy, reduce CO2 emissions, and reduce costs when compared to existing seawater desalination technologies such as reverse osmosis (RO) systems. In addition, our company's DS can be used repeatedly, and has a reduced environmental impact. The FO system can also be applied to industrial wastewater treatment applications (Zero Liquid Discharge or ZLD). These factors have helped it to garner attention as a technology that can help meet increasingly stringent global wastewater regulations.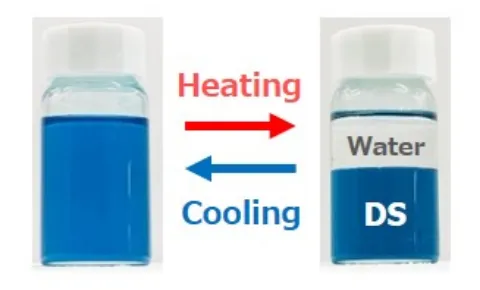 Batteries
Succeeded in the development of polymer electrolyte rechargeable at room temperature, contributing to improved performance of all-solid lithium-ion batteries
We have succeeded in developing a high-performance polymer electrolyte membrane that dramatically improves the performance of all-solid lithium-ion batteries. All-solid-state batteries are known as next-generation batteries with long life and improved safety. However, polymer electrolytes show low lithium-ion conductivity, and therefore the batteries need to be heated to 50°C or higher for practical use. We developed high lithium-ion conduction technology for polymer electrolyte membranes. The new polymer electrolyte shows more than five times the lithium-ion conduction of conventional polyethylene oxide-based electrolytes, which allows for battery operation at room temperature. In comparison to conventional all-solid state batteries, the new polymer electrolyte membrane is expected to provide shorter charging times, higher energy densities, and fewer heat sources to heat batteries, which will allow for new applications of all-solid lithium-ion batteries.

Health & Medical
Contracted manufacturing of middle-molecular APIs
Nippon Shokubai will support people's health and medical care through the supply of middle-molecular APIs and contribute to the future of society.
Infrastructure/Housing
Superabsorbent polymers (SAPs) that extend the lives of concrete structures
Since ancient Rome, concrete has been a key material in building the public works and structures that underpin our infrastructure. However, given the vast amount of greenhouse gases (CO2) emitted when producing its main ingredient—cement—we must find ways to reduce CO2 in everything from constructing to maintaining structures and to realize a sound material-cycle society. Although SAPs have been studied as a means of making concrete more durable and thus extending its useful life, they are not often used because their rapid water absorption—the quality that makes them so useful in disposable diapers and other industrial applications—could compromise concrete fluidity.  We leveraged our polymer synthesis technology—a core technology of Nippon Shokubai—and knowledge of cement additives to develop an SAP specifically for concrete. The delayed-reaction SAP absorbs water at a controlled speed during concrete placement, improving the strength of the concrete, preventing neutralization, and reducing shrinkage. Thus, our new SAP is expected to extend the lives of concrete structures.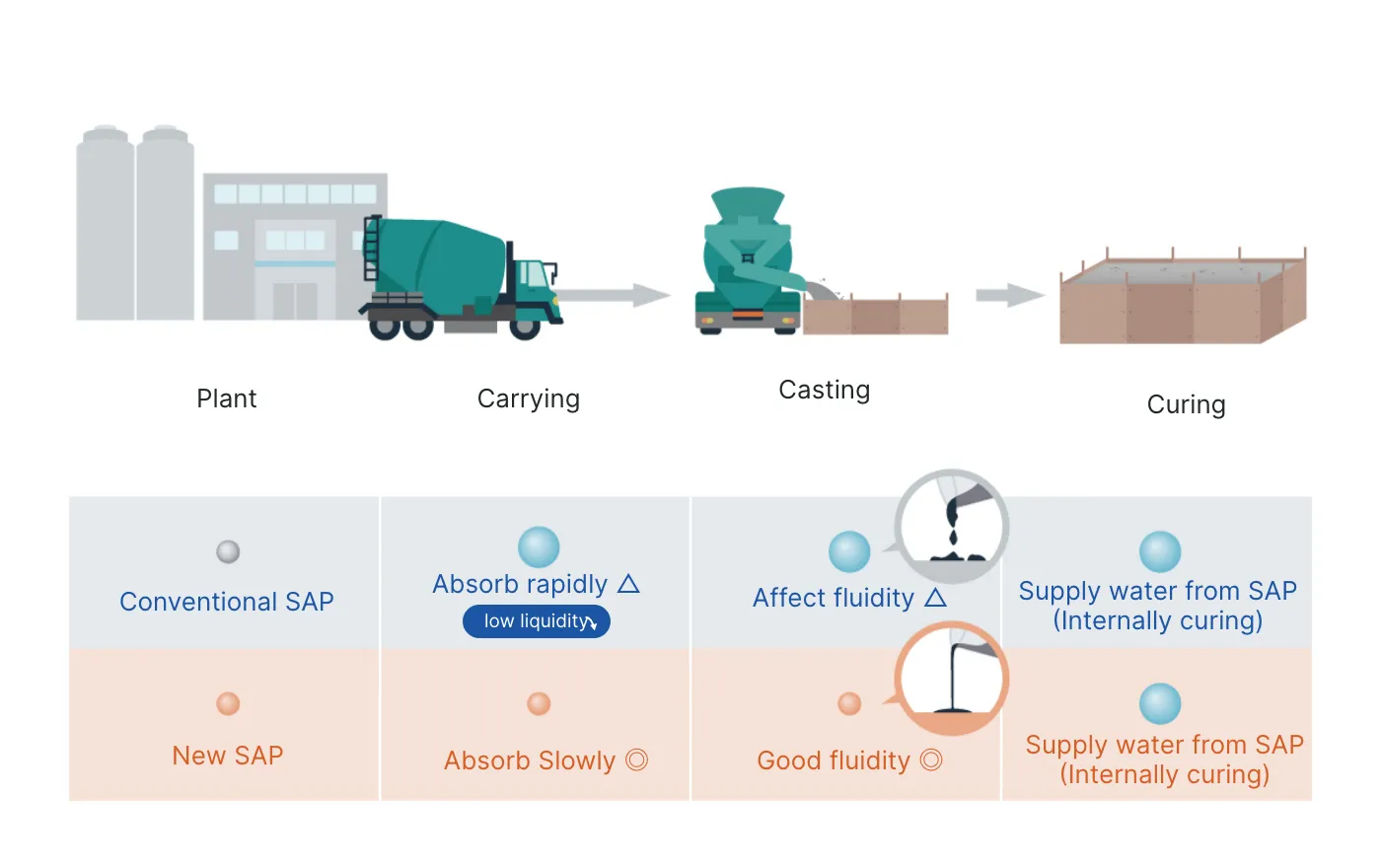 Displays
Developed dispersed silica nanoparticles, for hard coating of displays and more
We have developed the IX-3-NP series, a new grade of SEAHOSTAR™, our silica particle product, in particle diameters of 100 nanometer or less. Micro materials of nano-level size are increasingly in demand along with the advancement of functions of electronic information materials, such as next-generation displays and semiconductors. To meet these needs, Nippon Shokubai has established optimal production conditions for nanoparticles based on its unique synthesis technologies and knowledge of inorganic oxides cultivated in its catalysis business. Silica nanoparticles are spherical amorphous silica particles, with diameters controllable between 10 and 100 nanometers. They display sharp particle size distribution and high purity. In addition, our advanced surface treatment technology allows them to have good dispersibility in diverse solvents and surface designs appropriate for customer compositions. With the ability to improve hardness and scratch resistance while maintaining high transparency, we expect these materials are to be applied not only for transparent, hard coating of optical films but also as materials to add hardness to various items, including nano fillers for semiconductor-related materials and dental materials.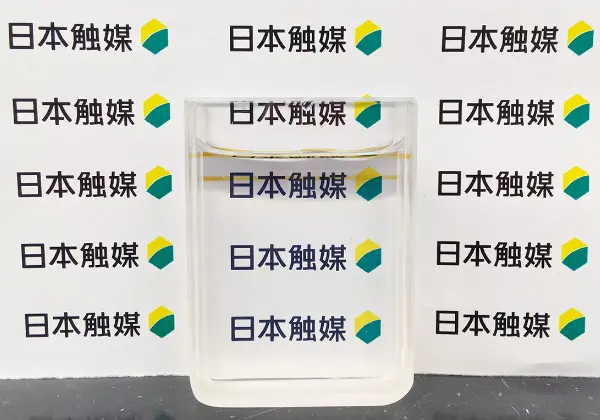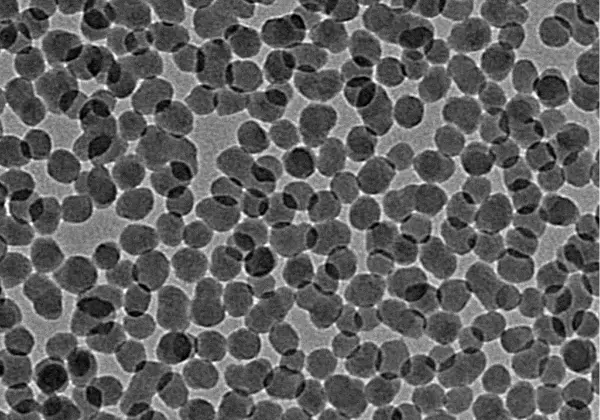 Cosmetics
Cosmetic ingredients that elicit beauty through the power of chemistry
We harness the power of chemistry to help people enjoy lifestyles of ease and comfort. We aim to give people the power to realize their ideals in their pursuit of aesthetic beauty.
Environmental Purification
Wastewater treatment in lieu of waste incineration
Successfully developing maintenance-free systems with highly efficient, low-cost treatment capacity
Catalytic wet air oxidation (CWAO) is a technology for treating organic matter and hazardous substances in wastewater very efficiently and with low running costs. Our proprietary solid catalysts trigger liquid-phase oxidation with air as the oxidant to neutralize highly toxic organic matter, organic nitrogen compounds, ammonia, sulfur compounds, and other hazardous substances into carbon dioxide, water, nitrogen, sulfates, and other harmless substances. CWAO is cleaner and eco-friendlier than incineration because it emits no exhaust that includes SOx, NOx, or dioxins and produces no incinerator ash or other secondary contaminants. Moreover, the energy yielded by oxidative decomposition can be reused, thermally isolating systems and reducing CO2 emissions.
CWAO also facilitates efforts to further advance treatment in combination with biotreatment in later stages. It is an apt choice for treating wastewater that biotreatment fails to fully purify, specifically wastewater from places like chemical and semiconductor plants.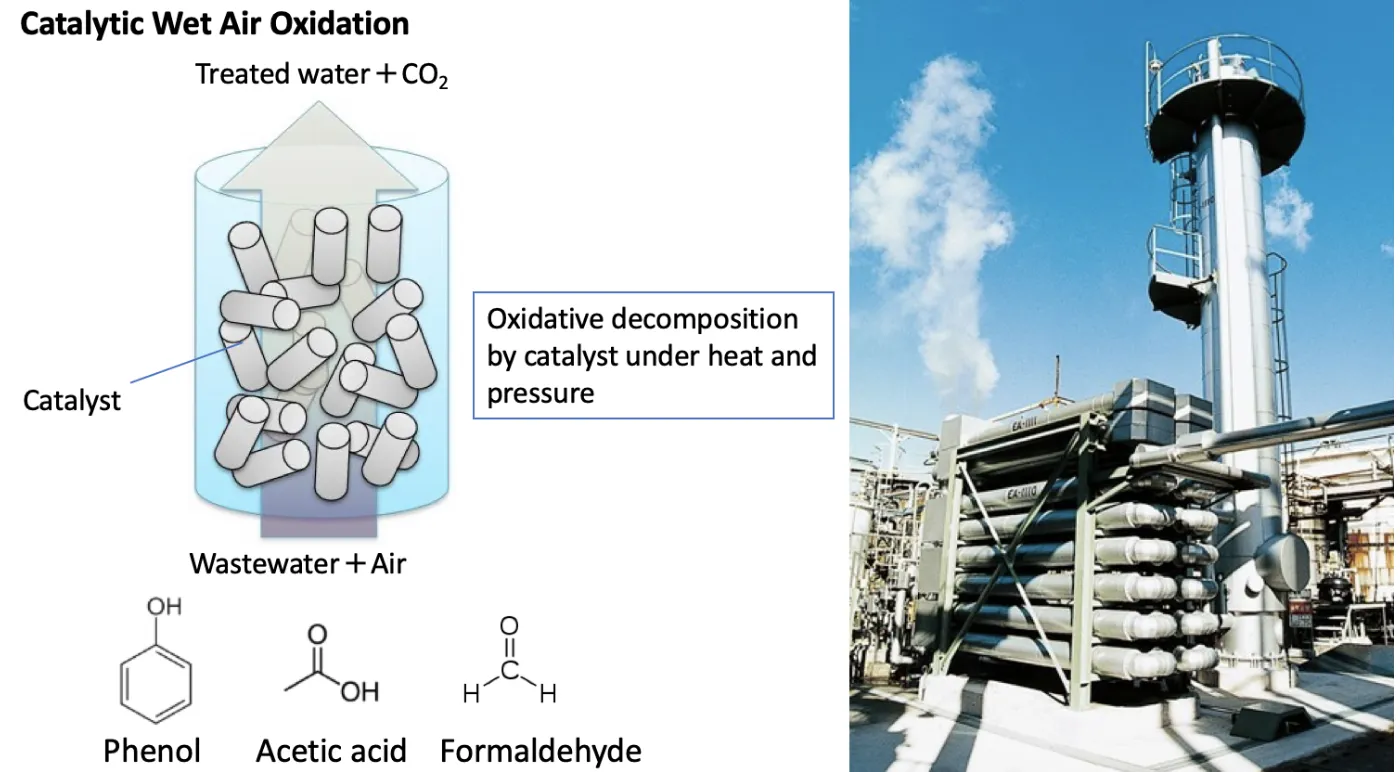 Packaging/Printing
VEEA™ and AOMA™, reactive diluents for UV inkjet printing
VEEA™ is an acrylate monomer featuring excellent UV-curing performance and low viscosity, which is used as a reactive diluent for UV inkjet printing. It is particularly suitable for printing labels such as QR codes, and demand is expanding mainly in Europe and the U.S., where UV printing is prevailing due to tighter environmental regulations. AOMA™ is also excellent as a diluent for UV/EB curable materials because of its very low viscosity. And its polymers provide hardness, heat resistance, flexibility, and toughness. It was generally thought to be difficult to create materials in which these characteristics coexist. AOMA™ adds toughness and heat-resistance to formed objects produced by UV-curable 3D printers. In the future, we expect expansion of its use for a variety of applications, such as in coating materials for flexible devices and adhesives for bonding dissimilar materials.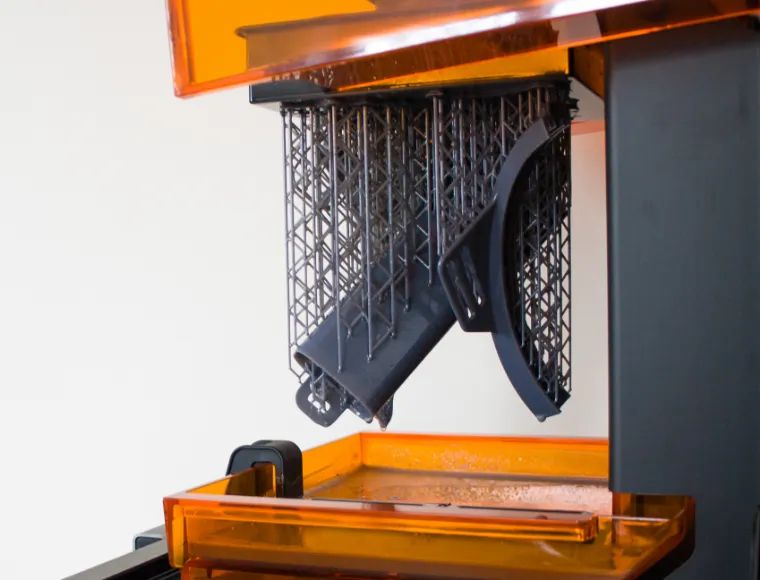 Green Innovation
Acrylic acid/superabsorbent polymer made from biomass raw materials
Acrylic acid is widely used as a raw material for various products, including superabsorbent polymers (the water-absorbing component of disposable diapers) and acrylic esters (the main ingredients and additives in paints and adhesives). However, the final products—disposable diapers and so on— become a source of CO2 emissions when disposed of and incinerated after use. Therefore, Nippon Shokubai is investigating the use of biomass-derived propylene instead of petroleum-derived propylene, and is developing a new manufacturing methods for acrylic acid from biomass. Since biomass absorbs and fixes CO2 in the air through photosynthesis, CO2 emitted during incineration can be regarded as carbon neutral, leading to a reduction in CO2 emissions. We aim to start the commercial production of biomass-derived acrylic acid as early as possible before 2030, by working to develop mass production technology during our medium-term management plan from FY 2022 to FY 2024. We will also expand its use to the production of superabsorbent polymer and acrylic esters, and aim to reduce CO2 emissions throughout the lifecycles of our customers' final products.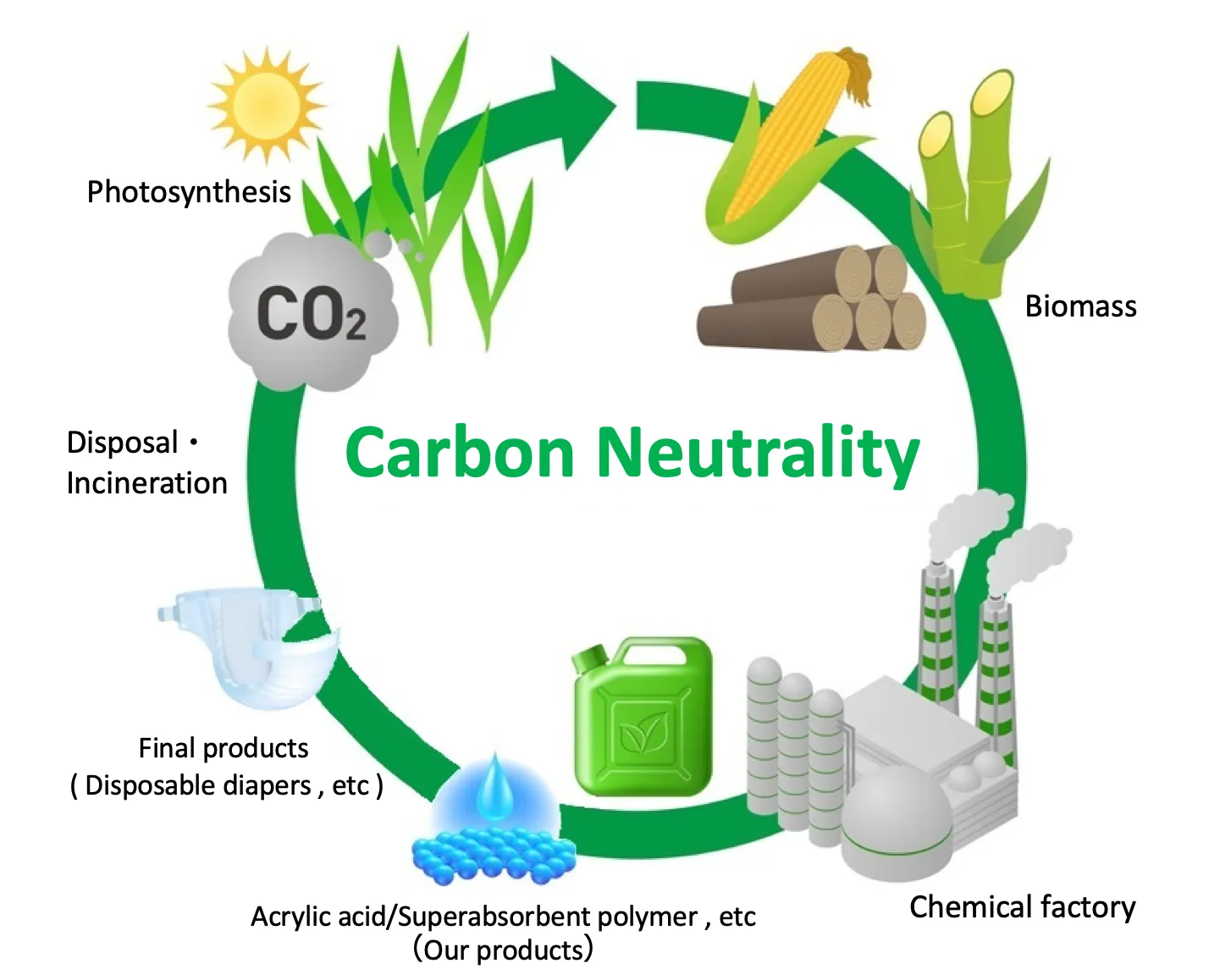 Hydrogen
Separator for alkaline water electrolysis, contributing to the spread of green hydrogen and reduction of CO2 emissions
The separator for alkaline water electrolysis is used for alkaline water electrolysis*1 , a technique seeing interest as a production method for green hydrogen*2 . Hydrogen energy does not emit CO2 when used and therefore its applications have been expanding in fuel cells for automobiles and houses. Separators have a significant impact on hydrogen production efficiency and therefore must have two characteristics: high electrolysis efficiency (low ionic resistance) and preventing cross leaking of the generated hydrogen and oxygen (high gas barrier property). Under the severe conditions of high-temperature, high-concentration alkaline water, the number of both practical and durable separators is limited. However, Nippon Shokubai has succeeded in developing a product that ensures both of these characteristics by applying our unique organic/inorganic hybrid technology and sheet manufacturing technology. This separator is expected to have several advantages, including reduction of power consumption and improvement of the purity of the hydrogen produced, thereby contributing to the spread of green hydrogen and reductions in CO2 emissions.
*1

Method of water electrolysis using strong alkaline solution, such as potassium hydroxide

*2

Hydrogen produced using renewable energy with reduced CO2 emissions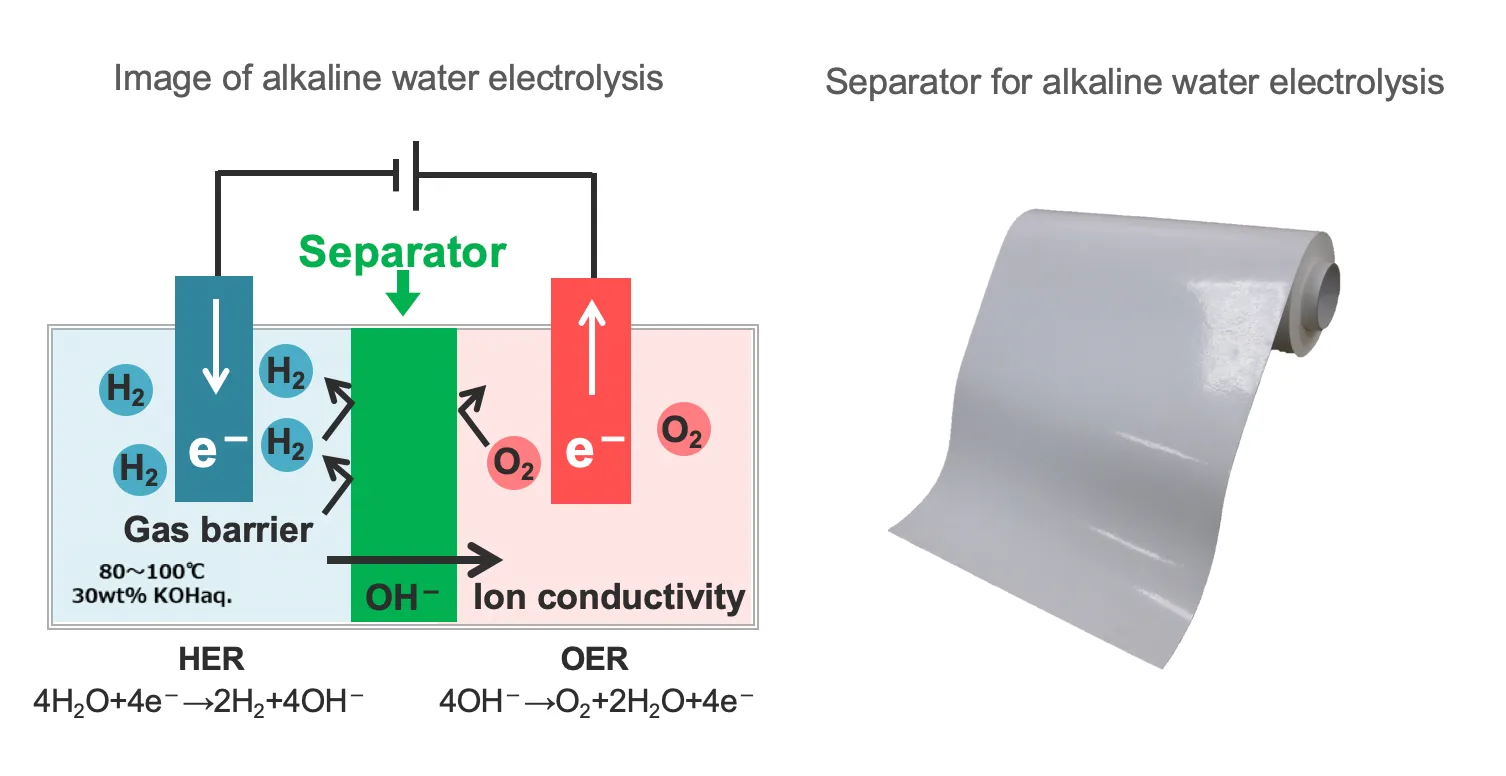 Semiconductors/Communications
Mass production of graphene oxide, a new nanocarbon material with high thermal conductivity that will contribute to the spread of 5G communication
We have been using our unique technologies for the development of graphene oxide, a novel nanocarbon material that is attracting attention. As part of our efforts to commercialize the material, we are advancing proposals for customers and developing mass production technologies. Graphene oxide has a sheet structure in layer approximately one nanometer thick. It is made by oxidizing graphite with a strong oxidant while increasing the interplanar spacing between the layers and then exfoliating thin flakes. Since our graphen oxide is dispersible in water and some organic solvents, it has been well received for its ease with which it can be used in coatings for films and kneading into resin. Possible future applications include parts related to 5G (5th generation communication), as well as other materials that require strong heat dissipation capabilities, such as materials for automobiles and batteries.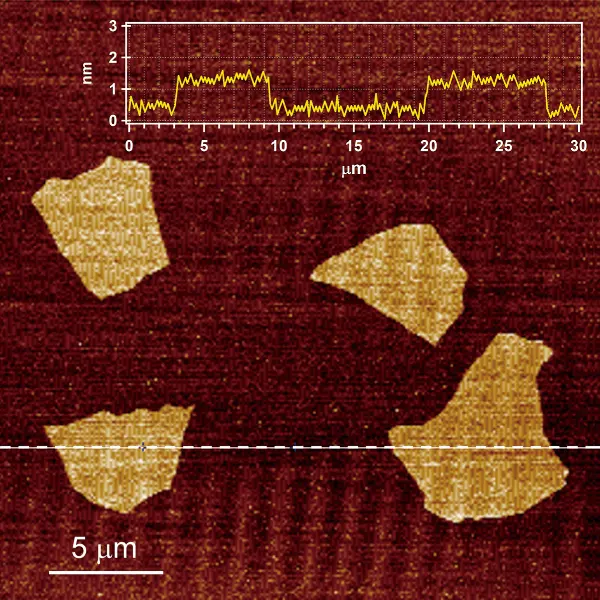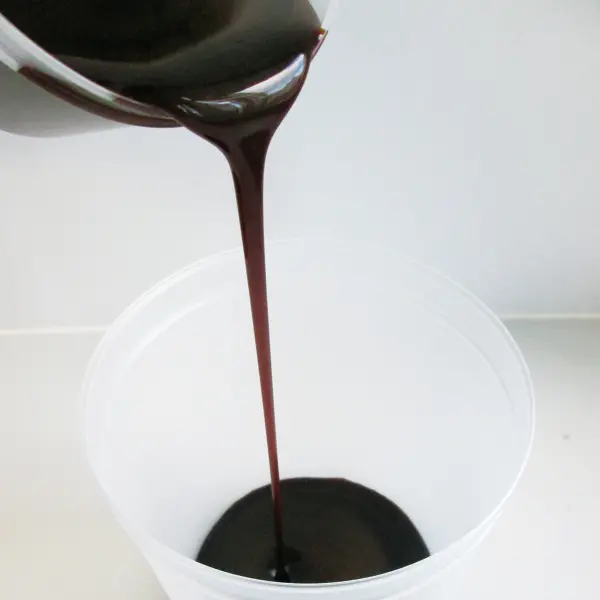 Circular Economy
A new priority: Reducing waste by shifting from disposable to recyclable
Disposable diapers are mainly composed of pulp, plastic, and SAP. Total Care System has been recycling a part of used diapers as the raw materials for other products or for other applications. The recycled pulp has been effectively used as raw materials for building materials (e.g., exterior and interior wall materials) and the plastic has been thermally recycled as solid fuel. Nippon Shokubai began investigating recycling technology for SAPs, which had not previously been put into practice, and succeeded in the development of new recycling technologies jointly with Livedo Corporation, a major manufacturer of adult diapers, and Total Care System.
There are two key parts of the technologies:
1. Technology for increasing the recovery rate of pulp by processing SAP swollen with urine to improve separation from pulp.
2. Technology for collecting SAP with minimum performance degradation while saving energy and preserving the quality of water in rivers and other bodies of water.
These technologies are applicable to all SAPs produced by Nippon Shokubai, as well as to various SAPs from other companies. We will improve these technologies to a practical level, advance the development of easy-to-recycle materials and treatment technology, and work with our two partner companies to build a recycling system.