Message from the President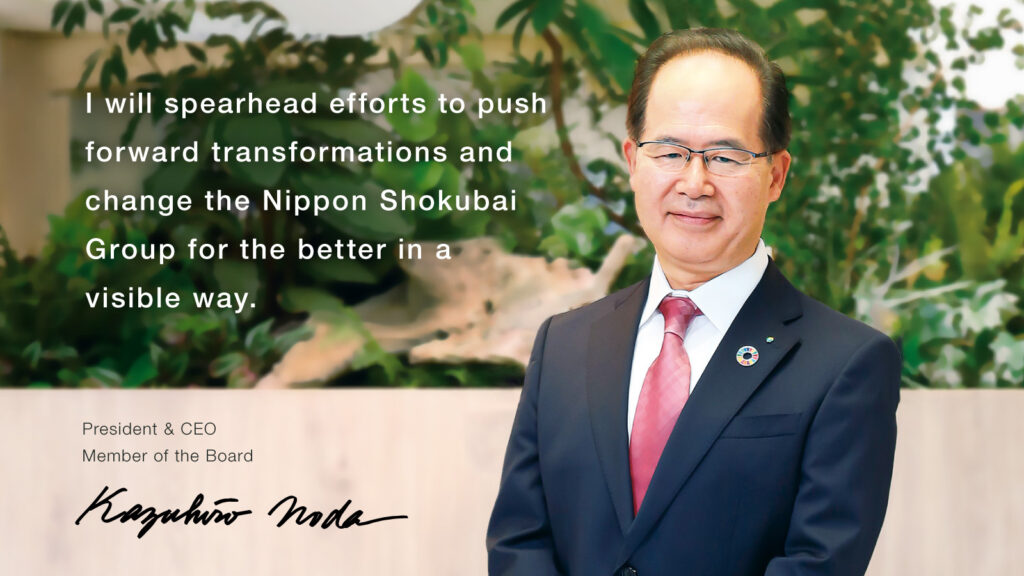 Becoming a company that can grow sustainably by pushing ahead with transformation
I became president of Nippon Shokubai in June 2022. I promoted the formulation of the new Medium-term Management Plan "TechnoAmenity for the future-I" (hereinafter, "Mid-term Management Plan") when I was in the Corporate Planning Division.
At that time, I considered "what was the most important for the Nippon Shokubai Group" with a strong drive to help change the company for the better.
Although I believe I can contribute to the company no matter what position I take, in the capacity of the president from now on, I am determined to spearhead efforts to advance transformation, further aiming to make Nippon Shokubai an organization with sustainable growth.
Achieving our Vision with TechnoAmenity as a key axis
The environment surrounding the Nippon Shokubai Group has been changing constantly, with factors including soaring raw materials and fuel prices, movements toward carbon neutrality, and reorganization of the petrochemical industry. These changes will continue to occur, making it increasingly difficult to predict what is going to happen next. Regardless of how the situation changes, however, we have no plans to change our Long-term vision, the direction of the Mid-term Management Plan, or the goals we have set. I believe that what is important is to ultimately achieve the goals by flexibly revising strategies in response to changes.
Under these circumstances, it is very important to clearly envision what we want to be. We have the Group Mission "TechnoAmenity: Providing prosperity and comfort to people and society, with our unique technology," in which our strong desire is reflected to contribute to creating a society where people can not only enjoy material affluence but also lead a comfortable life physically and mentally and where people have hope for the future. From the perspective of what the Group can do to realize such a society, we have set the goals we should achieve by FY2030 in the Long-term vision "TechnoAmenity for the future." We will work together with all our stakeholders toward realizing the Group's Mission "TechnoAmenity" and our vision and goals.
Position of New Mid-term Management Plan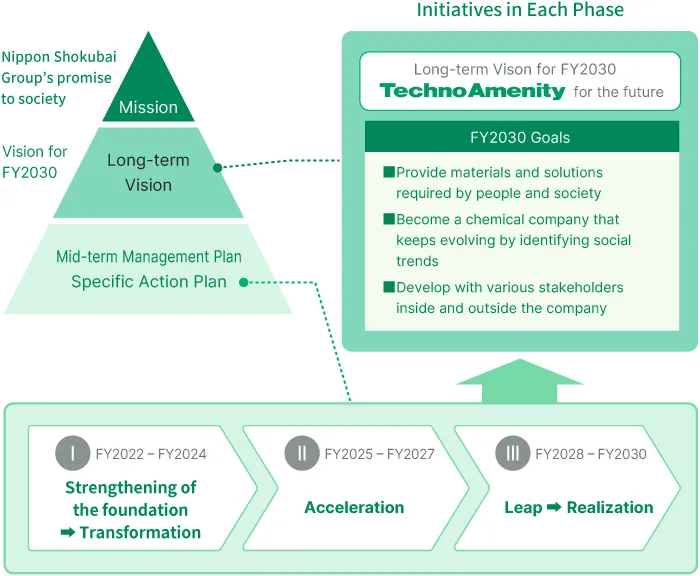 Three transformations and Initiatives and Target through FY2024
"Three transformations," all of which are necessary ingredients for success
In the Long-term Vision and the Mid-term Management Plan, we have set Three transformations: "Business Transformation," "Strategic Transformation for Environmental Initiatives," and "Organizational Transformation." "What is the top priority among these three transformations?" I am often asked, but the three transformations are closely linked. So if we don't achieve all of them, each transformation will be meaningless. The goal can be only attained by achieving all three transformations.
Strengthening stable earning power
Effective investment is indispensable for the growth of a company. The Nippon Shokubai Group has achieved growth while maintaining a solid financial base thus far. We will not change this conventional policy, and on the other hand we need to carry out improvements in capital efficiency. To do so, I believe that it is important to increase profit margins. If a product has earning power that matches capital investment, ROA (return on asset) and ROE (return on equity) will be raised. We will push ahead with transformation with a focus on how to strengthen the earning power of each product.
From this fiscal year, our businesses have been reorganized into the two segments of Materials and Solutions. Strategies to be taken differ between the Materials business, which has many products that tend to be influenced by market conditions, and the Solutions business, which has product lines that should be differentiated by function. We are planning to increase profitability by clearly defining the most suitable strategies for individual product lines, leveraging our Group's strengths, and thereby expanding these businesses. By fiscal 2024, we have set the target of increasing the sales ratio between the Materials business and the Solutions business to 65%:35%, and the operating profit ratio to 50%:50%. We aim to reach record-high earnings in fiscal 2024 by making the Materials business more resilient and expanding the Solutions business.
Business Transformation
The Nippon Shokubai Group, which has many competitive, unique technologies, has achieved growth by offering materials that meet the needs of individual customers. However, this is no longer enough to respond to diversifying customer needs. We are now in an era when it is difficult to help customers resolve increasingly diverse issues without fully understanding such issues from their perspectives and offering multiple technologies and product lines as solutions to them. In retrospect, it can be said that we had been responding to customer needs in a relatively passive manner. From now onward, it is necessary to approach our customers more proactively. We should share the problems that are really facing them, propose solutions to such problems, and increase our customers' awareness of our technologies and products. This will help increase their expectations of and trust in our Group, ultimately leading to enhancing our corporate value.
In the Mid-term Management Plan, we have designated 10 markets as Selected Markets to leverage our strengths. At first sight, it may seem like too many "Selected Markets," but encompassing a broad range enables us to watch the markets as a bird's-eye perspective. We can select the market at any given time, which to be more noteworthy, or which to allocate more resources, from those whole. The commercialization of a product requires a certain period of time for consideration at a pilot facility and the establishment of a production system. In terms of the current mid-term management period, the facilities of the product groups invested during the previous mid-term management plan period—for example, electronics-related products (ACRYVIEWA™) and water treatment-related products (ethyleneimine derivatives)—are operating at full capacity and will drive earnings. In addition, we will actively invest resources in battery materials (IONEL™) for the present three-year period and make them one of the pillars for profit growth for the following three-year period.
On the other hand, the life cycle of products tends to be shorter than before. The key to success is how quickly we can recoup investment and make a profit after a product is launched. We must keep a close eye on market trends to identify the market in which we can leverage our strengths and continue to introduce new products into a market in a timely manner. Nippon Shokubai Group boasts a large number of excellent researchers, but in many cases, it took a long time before commercialization. Given this situation, we have thoroughly reviewed the conventional system and introduced a new system that enables not only the Research Division but also other relevant divisions, such as the production, planning and sales divisions, to get involved from the early phase of development to discuss market needs, product viability and facility preparations, and share such information. I believe this new system will shorten the time required for commercialization and thereby launch more products into markets.
Strategic Transformation for Environmental Initiatives
With increasing expectations toward the realization of carbon neutrality, our customers are also considering reducing CO2 emissions in the supply chain as a whole. Response to carbon neutrality is no longer an option but strategically imperative for us. I believe that the chemical industry has a major role to play in achieving carbon neutrality.
We in the Group have set the goal of reducing CO2 emissions by 30% by 2030, aiming to achieve carbon neutrality by 2050. A significant issue in considering specific measures is how to balance CO2 reduction measures and the costs required for them. Since the use of biomass materials and the introduction of renewable energy increase costs, it is necessary to push forward with such initiatives while considering how to share the costs among the supply chain members as a whole, including suppliers and customers.
At production sites, efforts have been promoted to increase the efficiency of raw materials and energy and reduce their environmental impact through waste reduction initiatives. However, the updating of aging facilities is another common issue facing the chemical industry.
At our company, we don't just replace aging facilities, and replace it with more productive facilities. In addition, we are actively improving our processes to reduce the amount of raw materials and energy used through the adoption of sophisticated control and high-efficiency production technologies.
Regarding business operations, I believe that our Group's technological capabilities can be utilized in environmental fields. In terms of expansion of the use of hydrogen, for instance, we have developed ammonia decomposition catalysts and a separator for alkaline water electrolysis. For the capture and reuse of CO2, we are going to deploy CO2 absorption materials and CO2 conversion catalysts. I recognize that it is the Group's duty to lead these strengths to growth, eventually realizing its mission "TechnoAmenity."
It is difficult to achieve carbon neutrality only through each individual company's efforts. Cooperation among all the supply chain members is indispensable. With regard to biomass materials and materials for recycling, it is also necessary to share challenges with suppliers and work in collaboration to resolve them.
In these ways, we have been promoting various initiatives toward achieving carbon neutrality. We will endeavor to link these initiatives to contribution to environmental preservation and our Group's growth while considering the balance with costs and what cooperation and collaboration ought to be.
Organizational Transformation
To change and grow a company as a whole, each employ needs to continue to grow. In April 2022, Nippon Shokubai introduced human resources management systems to appreciate talent who take on challenges. To ensure that these new systems work properly, superiors need to evaluate their subordinates' proposals and challenges appropriately. To do so, it is important to change evaluators' mindsets, improve evaluation capability, and create an organizational culture of openness that allows employees to actively make suggestions. As part of such initiatives, a system was launched last year that enables employees to advance various types of proposals to the management. We will continue to endeavor to promote more active and open communication than before.
Diversity is another important factor in strengthening the organization. I myself have had many opportunities so far to interact with overseas customers and business partners, through which I have been able to learn a lot. Different people have different views and ideas. I believe that encounters with diverse views can bring about new ideas, eventually leading to improving the strength of an organization.
For the reform of corporate governance, we have made clear the functions and roles of the Board of Directors and the Corporate Managing Committee, and have changed their operation methods in stages. Board meetings and Corporate Managing Committee meetings have discussed similar agenda items so far, but Board meetings will mainly take up matters to be discussed, including mid- and long-term strategies, from the perspective of the Group as a whole.

In pursuit of "growth"
Companies are required to grow sustainably. On the other hand, I think the question is what "growth" means to a company. In other words, importance should be placed not only on growth in figures, such as sales and profits, but also on growth that cannot be measured in numerical terms, such as how the company contributes to society and whether its employees can obtain high levels of job satisfaction. I believe that we will be called a good company only if we can grow sustainably in various aspects. I would like to improve Nippon Shokubai visibly by placing special emphasis on dialogues within and outside the company and actively adopting useful suggestions.